BACKGROUND & OBJECTIVES
The construction of Northern Bypass Road, commonly known as NBR was envisaged by the Royal Government of Bhutan (RGoB) sometime in late 1990s and early 2000s to divert the heavy traffic from outskirt of core town area. Alignment studies and preliminary designs were carried out. However, no concrete decisions were made on the finalization of the alignments and the detailed designs, probably due to lack of fund to implement the project. The proposed alignment entailing two major bridges over Omchu, apart from the existing Old doubled laned Omchu Bridge, was put on hold for quite sometime.
Now the final alignment of the road is as depicted in the map below.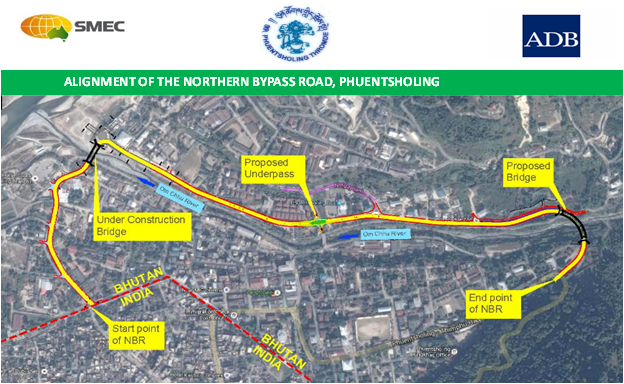 In 2010, Thromde on its own initiative, through consultancy services, carried out the design of two bridges over Omchu, one at lower end (near YDF Building) and the second one opposite Crocodile farm, as a follow up of earlier govt's initiative to construct NBR project. Due to budget constraint under the RGoB, Thromde, upon the support from ADB, constructed the lower four lane bridge near YDF in the year 2017-2019.
Simultaneously, for augmentation of the existing Road (single lane) to four lane from Gate No.2 till RBA bend with, yet another major bridge over Omchu, at its upstream, Thromde kept exploring the budgetary support and could secure the funding from the Asian Development Bank, to carry out detailed design and implementation of the project. The fund of USD 4.5 million was assured by the ADB in July, 2015, as a part of South Asia Sub-Economic Cooperation, Road Connectivity Project (SASEC,RCP). The funding is totally a "Grant".
To implement this project, ADB, for the first time, assigned the Phuentsholing Thromde, (the Local Government), both, as the Executing Agency as well as the Implementing Agency (EA/IA), which, otherwise, usually, the EA rests either at the Department or the Ministry levels.
PROJECT
For ease of managing the project effectively and to fast track the progress, the NBR project of 2.0 Km four lane road, including 120mtr. major bridge Over Omchu, opposite RBA bend was divided into two Packages, viz. NBR-I and NBR-II.  
Thus, after finalizing all the detailed design, drawing, cost estimates, etc. and completing the procurement processes, the NBR-I package was started for physical implementation from 1/09/2017, with the contract duration of 24 Months. Package I consists the road works only.